ROOTS IN THE RUINS:
TRANSFORMATIVE PRACTICES FOR FUTURE FLOURISHING
a series of participatory performances, discussions and workshops
in a wild garden in Alt-Hohenschönhausen
presents
 on Sunday 08 October from 4–7pm
A fireside dreaming with plan b
followed by drinks and soup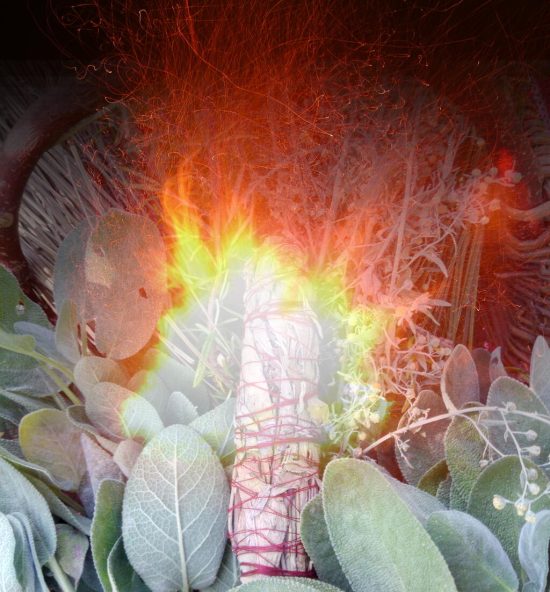 As the autumn sets in and winter draws near, we invite you to dream of better, greener worlds to come. Having gathered rosemary, lavender, wormwood and sage we will bind the herbs ready for you to take home for future dreaming and cleansing.
While we do this, we will collectively enter into future visions beyond the eminent damage to this world and encounter another green world. What does waking up and stepping into this world feel like, sound like, smell like?
Afterwards, sipping lemon balm tea, a wormwood tincture based on a recipe by Hildegard herself and a hearty soup, we'll warm ourselves around the fire as we share journeys through the collective imaginary.
Sophia New and Daniel Belasco Rogers have worked together as the performance duo plan b since moving to Berlin in 2001. Originally from London, their work is concerned with site, intimacy, public space, technology and durational performance. They have a long-term practice of recording everywhere they go, everyday, with a GPS. From this collection they make prints, drawings, performances, video works, sculptures and carpets. Since 2010 they have regularly taught on a variety of courses including Hafen City University, Hamburg, Hochschule für Grafik und Buchkunst, Leipzig, Folkwang Universität der Künste and the University of Arts, London. Between 2020–2023 they were guest professors for Studium Generale at the University of Arts Berlin.

www.planbperformance.net
ROOTS IN THE RUINS is generously funded by Bezirksamt Lichtenberg Berlin:

ROOTS IN THE RUINS:
TRANSFORMATIVE KULTURPRAKTIKEN FÜR ZUKÜNFTIGES GEDEIHEN
eine Reihe von partizipatorischen Performances, Diskussionen und Workshops
in einem wilden Garten in Alt-Hohenschönhausen