ROOTS IN THE RUINS:
TRANSFORMATIVE PRACTICES FOR FUTURE FLOURISHING
a series of participatory performances, discussions and workshops
in a wild garden in Alt-Hohenschönhausen
opens Saturday 2 September at 15:00 with:
SOLIDARE SOLIDAGO: Growing Together Apart
a workshop by SIEGMAR ZACHARIAS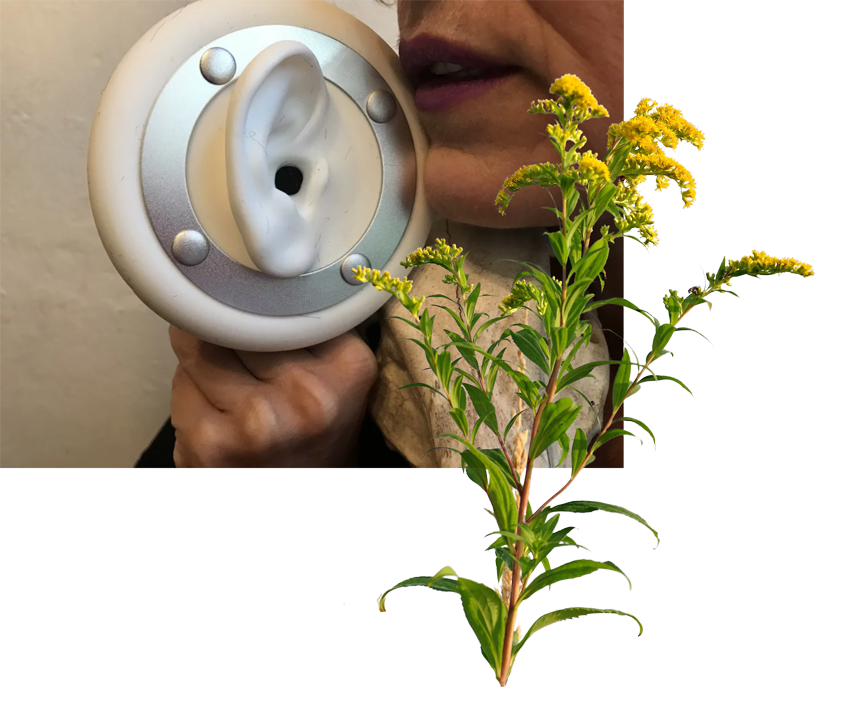 In this workshop Siegmar will combine two of her practices: the Listening Sessions, as containers for collective public grieving practice, with her dedication to learn from plants about social justice.
The Listening Sessions are offered as a practice for giving our bodies as resonance spaces for each other to be in the wild spaces of grief, joy, pleasure, of connection through sound. We invite you to plug into the transformative power of collective grieving, collective listening, collective regeneration.
We will meet Solidago canadensis, Canadian Goldenrod, and listen to the power of breath.
In a last part we will exchange and formulate emergent strategies from the experiences we shared. 
Come as you are. All bodies are welcome. All grieves are welcome.

The workshop will last approximately 3 hours followed by drinks at the bar
SIEGMAR ZACHARIAS (RO/DE) is a performance artist and researcher and lecturer. She works with performances, immersive installations, discursive encounters and curations that deal with questions of the generative ethical dynamics of transformation: agency, liquefaction, technologies of artistic and social practice. Learning from uncontrollable material like smoke, slime, drool, nervous system and death and dying, she collaborates with humans and non-humans. Her work has been shown nationally and internationally in theatres and festivals, in galleries and conferences, in greenhouses, in the forest and in the sky. Zacharias is a member of the collective SXS Enterprise and co-founder of the artistic exchange and research platform WOW – WE WORK HERE.
ROOTS IN THE RUINS is generously funded by Bezirksamt Lichtenberg Berlin:

ROOTS IN THE RUINS:
TRANSFORMATIVE KULTURPRAKTIKEN FÜR ZUKÜNFTIGES GEDEIHEN
eine Reihe von partizipatorischen Performances, Diskussionen und Workshops
in einem wilden Garten in Alt-Hohenschönhausen
eröffnet am Samstag 02.09 um 15:00 mit:
SOLIDARE SOLIDAGO: Growing Together Apart
ein Workshop mit SIEGMAR ZACHARIAS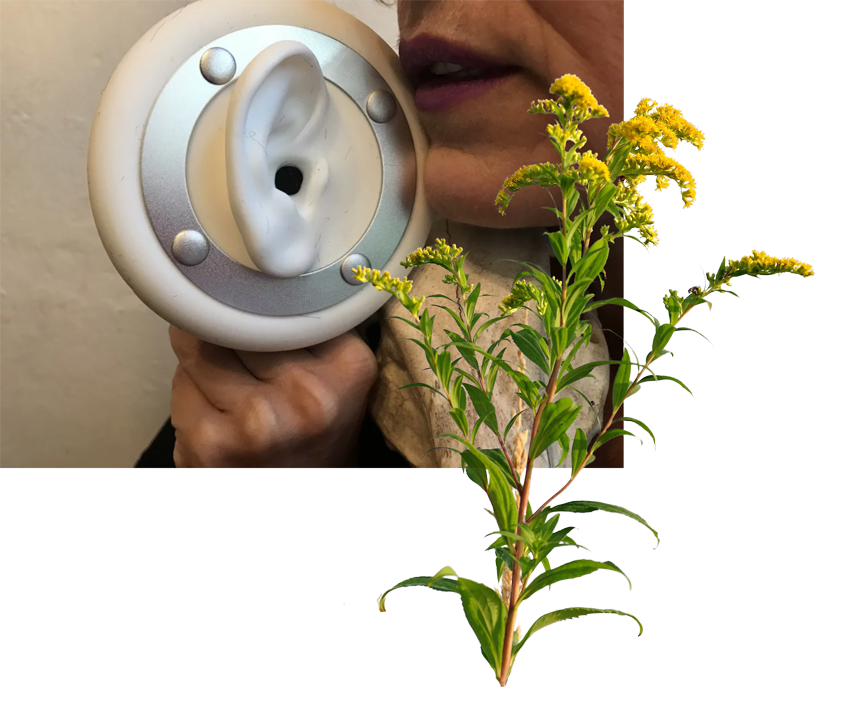 In diesem Workshop wird Siegmar zwei ihrer Praktiken miteinander verbinden: die Listening Sessions als Behälter für eine kollektive öffentliche Trauerpraxis und ihr Engagement, von Pflanzen über soziale Gerechtigkeit zu lernen.
Die Listening Session ist ein Angebot, gemeinsam zu üben, unsere Körper als Resonanzräume füreinander zu geben, um in den wilden Räumen der Trauer, der Freude, des Heilens zusammen zu sein. Lasst uns die Energie sammeln, die wir brauchen, um etwas zu verändern. Wir laden Dich ein, in die transformative Kraft der kollektiven Trauer, des kollektiven Zuhörens und der kollektiven Regeneration einzutauchen.
Wir werden Solidago canadensis, Kanadische Goldrute, kennenlernen und der Kraft des Atems lauschen.
In einem letzten Teil werden wir uns austauschen und Strategien formulieren, die sich aus den gemeinsamen Erfahrungen ergeben.
Komm, so wie du bist. Alle Körper sind willkommen. Alle Arten von Trauer sind willkommen.

Der Workshop dauert ca. 3 Stunden und endet mit Drinks an der Bar.
SIEGMAR ZACHARIAS (RO/DE) ist Performancekünstlerin, Forscherin und Dozentin. Sie arbeitet mit Performances, immersiven Installationen, diskursiven Begegnungen und Kurationen, die sich mit Fragen der generativen ethischen Dynamik der Transformation beschäftigen: Handlungsfähigkeit, Verflüssigung, Technologien der künstlerischen und sozialen Praxis. Sie lernt von unkontrollierbaren Materialien wie Rauch, Schleim, Geifer, dem Nervensystem und Tod und Sterben und arbeitet mit Menschen und Nicht-Menschen zusammen. Ihre Arbeiten wurden bereits national und international in Theatern und auf Festivals, in Galerien und auf Konferenzen, in Gewächshäusern, im Wald und im Himmel gezeigt. Zacharias ist Mitglied des Kollektivs SXS Enterprise und Mitbegründerin der künstlerischen Austausch- und Forschungsplattform WOW – WE WORK HERE.
Gefördert durch das Bezirksamt Lichtenberg von Berlin aus Mitteln des Bezirkskulturfonds: